Every produce shipping season is different, but 2021 has more than one extenuating circumstance that could make it one for the record books. Not only are we coming off of a volatile, high volume post-pandemic freight market, but we still are trying to recover after a week of bizarre winter weather in Texas and the deep South that devastated many winter crops.
Melons, onions, lettuce, and broccoli were just some of the more than $600 million in damaged produce. According to Texas A&M Today, the estimated losses from weather-related storms are broken down by these categories:
Citrus crops, at least $230 million
Livestock, at least $228 million
Vegetable crops, at least $150 million
The Challenges…
With produce and nursery seasons on our doorstep, the supply-and-demand game begins in April and plays hard through July. This seasonal uptick in freight volumes has everything to do with determining spot market conditions and fluctuations in pricing. It creates a sudden, high demand for equipment which, in turn, stimulates price increases following the "quiet season" of January - March. Of course, we have had no such quiet season in 2021, and therein lies the problem.
Freight volumes this year are near all-time highs. Capacity is already tight and trucks are hard to find in many areas. Specialized equipment types such as reefer units are experiencing outbound tender rejections in the 40% range, making the challenges even greater.
Predominant Crops by State During Peak Season
(Click on the state to see the main produce harvest)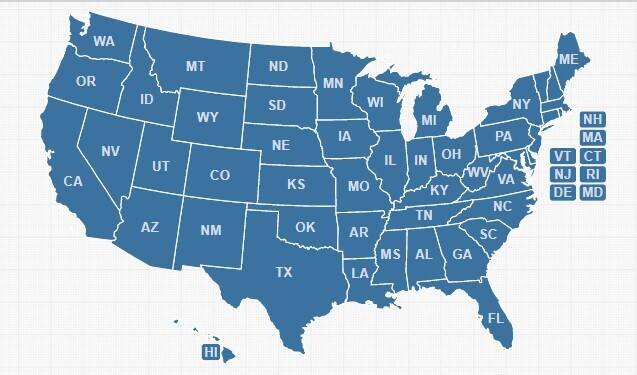 In any given year, the early arrival of spring, or its stubborn delay, can affect the timing of the industry's busy season. How soon the season starts affects capacity and the ability to move the thousands of truckloads of early crops such as citrus, avocados, tomatoes, and potatoes. As mentioned earlier, the damage sustained to Texas' agricultural scene will have a delayed trickle-down effect on capacity in that area. Some crops can be replanted and will require harvesting later in the summer, but many are a total loss.
KNOW YOUR COMMODITY (Click Here)
Produce markets follow the track of warming temperatures starting in southern California and southern Texas along with imports from Mexico. It then follows the elevated temperatures to Florida and up the East Coast. Check out our produce compatibility guide quick reference.
Dealing with perishable freight is always challenging and produce is no exception. Commodities that need to arrive within a certain window of time create less flexibility and more demand. This, in turn, shrinks capacity and raises rates. This is particularly true of refrigerated and temperature-controlled trucks which are in the highest demand.
In addition, carriers trying to make the most out of the season will position their equipment in produce-heavy shipping areas which puts a strain on those in other markets searching for trucks. This impacts capacity and higher rates across the board.
The Solutions…
So what can the average "Joe" shipper do to combat all these variables and cost-driving challenges? The most important thing you can do is arm yourself with knowledge, or market intelligence. If you're not a multi-million dollar company and don't have the technology or resources to gather this intelligence, it's important to work with a 3PL who has the capabilities. Expertise in produce shipping can offer your business additional value by providing enhanced visibility, predictive planning, and capacity maps -- all of which can help with your strategy and pricing.
Forecast and plan accordingly

– even if you're a little off on your calculations, an educated guess using previous year's data is better than not having any idea of volumes when securing carriers. Having advance notice will give you the flexibility to save costs over last-minute pricing.
Know the Market - Choptank offers a weekly market brief that provides valuable information regarding capacity, tender rejections, and current freight volumes around the country. Sign up for the Market Brief.
Be a shipper of choice

– carriers want to work with shippers who are fair and reasonable. See our recent blog to determine if you are a shipper of choice.
Explore alternative modes, even if think it doesn't make sense. You might be pleasantly surprised – get pricing on LTL loads by pricing them as truckload or if the commodity has an extended shelf-life, intermodal may be the unexpected cost-saving answer.
Find a 3PL

that specializes in the latest technology, market intelligence, visibility, and superior communication – make that freight broker earn your business! Use them as a consultant, because that is the value-added proposition they should be providing any and every shipper.
Choptank Transport has its roots in the produce shipping market, answering the need of the local farmers in its own rural and agricultural backyard of Preston, Maryland. We know produce like we know logistics. Contact us today for all your shipping needs, whether it be truckload, LTL, dry van, or reefer services.